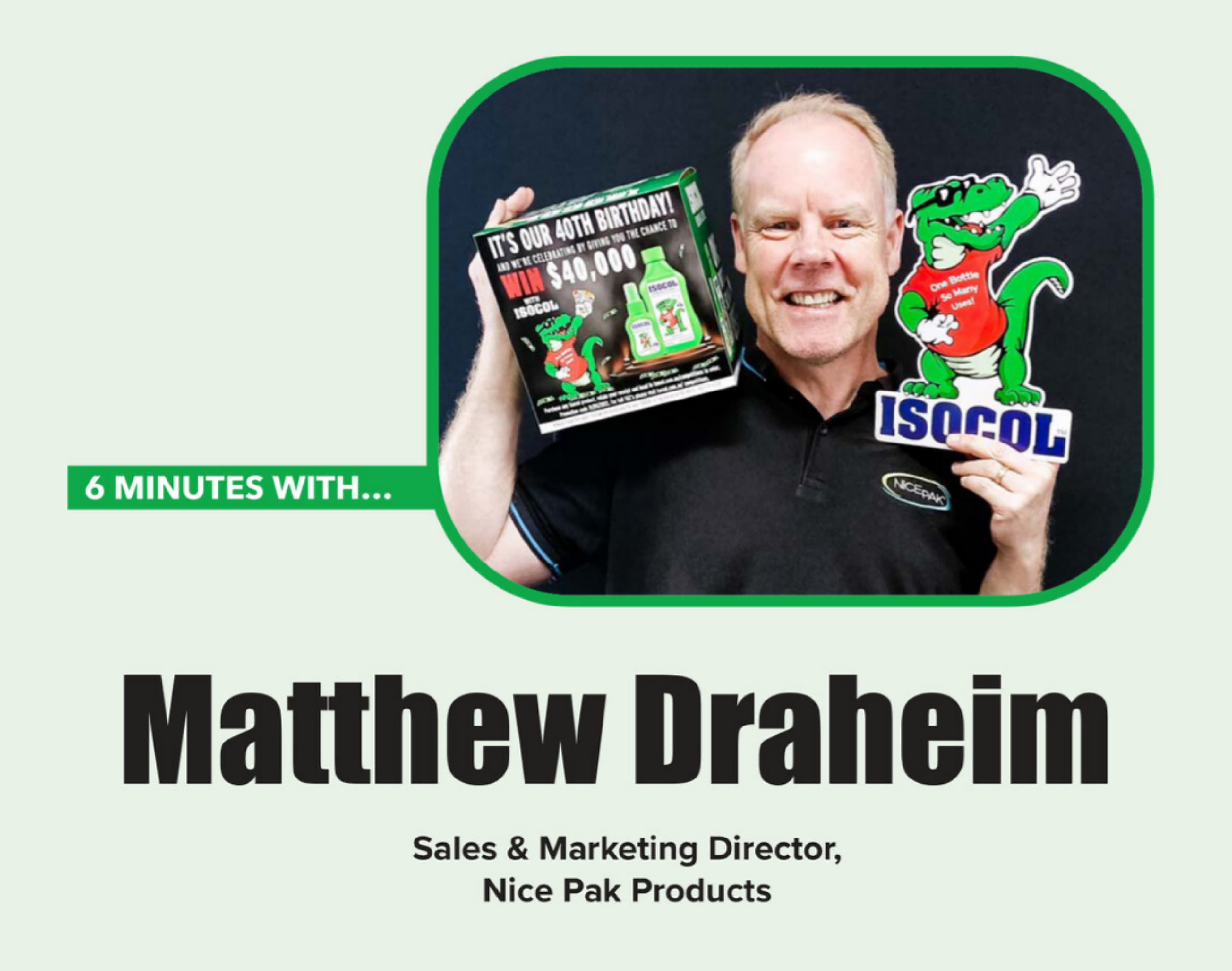 How did the Isocol brand come about? What is the purpose/aim of the brand?
In 1982 the Musgrave family in Queensland invented and launched Isocol. Isocol Rubbing Alcohol has been an Australian household staple since. The origins of [the] Isocol [name] are thought to have been fashioned from a shortening of the product's main ingredient, isopropyl alcohol. The crocodile has always featured on the pack. In the 1980s tradition, there was even a catchy Isocol jingle made for the original TV commercial.
Isocol is celebrating its 40th birthday this year, for which you're running a promotion/campaign. Tell us about that
Turning 40 is an important milestone that we wanted to celebrate. We've received so much love from our consumers and wanted to celebrate by giving one lucky customer the chance to win $40,000. The promotion runs from 1 April to 31 May and is available through all participating retailers in Australia selling Isocol products. All one has to do is purchase any Isocol product during the promotion period, retain the receipt and head to isocol.com.au/competitions to enter. The "Isocol chance to win $40,000" promotion is supported by a robust communications campaign including in-store point of sale material and a strong digital and social media campaign.
Forty years in the business is a great achievement. What makes Isocol a successful brand? What ensures the brand's longevity in an increasingly competitive market?
Isocol is a unique and versatile product. We often get feedback and reviews from our consumers about how they use Isocol in different ways and how it's indispensable in their household. The biggest reason I would pin down for the success of the brand would be the reliability and quality of the product, which has translated into loyal customers who've been using Isocol for years and always have one (or more) handy in their cupboard and for on-the-go use. Many new customers discovered our brand during the pandemic when they were searching for a hand sanitiser. These consumers have stayed with us as they've discovered the versatility that Isocol has.
Tell us more about the growth of the Isocol brand, particularly in pharmacies.
Isocol has grown steadily over the years. We started our journey in 1982 with a vision to provide a reliable and recognisable antiseptic product for use on the skin. The formulation has remained unchanged over that time. The green bottle has changed shape over the years; however, the green colour and the crocodile have been a constant. Pharmacy support for Isocol has been integral to the success and growth of the brand and we're grateful for the partnership we've had with pharmacy over the past 40 years.
What goes into R&D within the Isocol brand? What gap in the market is Isocol responding to?
Isocol is manufactured in Melbourne in a state-of-the-art TGA-licensed facility. As per one of our tag lines, "one bottle, so many uses" — it's not just an antiseptic rubbing alcohol, it's so much more. In response to customer demand, we're working on some additions to our Isocol family. More on that soon.
What makes Isocol stand out against other, similar products/brands in the market?
Isocol has a unique formulation, a light pleasant smell, and doesn't leave the skin feeling dry or sticky as some other products do. It's a brand that has a strong heritage in pharmacies and is well regarded as being Australian owned and made. Isocol is an all-rounder product. It's an antiseptic and multipurpose anti-bacterial lotion all rolled into one. It smells great and leaves the skin feeling fresh and fragrant. It also comes in a handy spray bottle that's perfect to use on the go.
How can pharmacy assistants promote the Isocol brand/products within their stores? What are the key facts they should know about the brand/products?
Pharmacy assistants can learn more about the Isocol product (if they haven't already) and recommend it to consumers if it aligns with the needs and benefits they're after. The team at Pharmabroker can assist with this in-store.
Isocol is an antiseptic and multipurpose anti-bacterial lotion. It's made of 64 per cent isopropyl alcohol and effectively kills germs on the skin with no water, no mess and no fuss. It evaporates quickly and leaves skin feeling fresh and fragrant. From minor cuts to scrapes to skin breakouts, Isocol can be kept close to make sure hands are clean before touching. Isocol can also be used to prep for new piercings, remove foot odour, sanitise skin around the area of a pimple or spot, or just sanitise hands after leaving a public restroom. One bottle, so many uses, indeed! Isocol is available in two sizes: the 345ml bottle can be kept handy in the cupboard, and a small, portable 75ml spray bottle is perfect for travel and on the go.
After the 40th birthday celebrations, what's next for Isocol? Do you have any other promotions/campaigns, etc, in the pipeline that you would be willing to share with us?
We're always working on some ideas on how to provide more value through our offerings. We're hopeful that we'll have more exciting news to share later this year.
Retail Pharmacy Assistance
April Issue, 2022
Keep up-to-date
with all things
baby care